Cooling Bottle cover "bicool"

We can always drink cold water even if under the hot weather,
it supplied by the cooling bottle cover "bicool".

Characteristic
Keep water temperature under 8degrees from the outside temperature.



1. Active Cooling (not Keeping cool)


2. The effect continues all the time.
(It is necessary to retain water)


3. You can use your original bottle and bottle gauge. (thin and light weight)


Material: Polyester/Nylon
Made in JAPAN
patent applied for

Theory


Sunlight is interrupted in surface shading / ventilation layer.

A wind through shading / ventilation layer and evaporates the water of Keeping Water layer.

Water evaporates in the shade and cools a bottle.

Putting on a bicool cooling bottle cover, it can keep a drink of the inside coldness such as the tap water.
When the water in the keep water layer evaporates, it take evaporation heat and cool off.
If only wrapping wet cloth with the bottle, it does not get cold very much because of direct rays of the sun.
Bicool cooling bottle cover have cloth for hollow knit around the keeping water layer, and it shut out the direct rays of the sun and take evaporation heat to through wind.
Therefore bicool can keep temperature having lower 8-12 degrees than a normal bottle.
(temperature is depend on a condition.)

Effect
By the experiment, at the riding condition,
the normal bottle became a maximum of 35 degrees.
On the other hand bicool bottle can keep 26 degrees.
(At outside temperature 34 degrees)
The normal bottle became rise 38 degrees when bicycle stopped.
Bicool bottle keep 26 degrees even if bicycle stopped.
This difference of temperature feels drinks hot water, or drink normal water.
The water in a keep water layer gradually evaporates
Please retain water at the time of a break, approximately two hours/once.
It dose not get so wet if you have it by hand, because there is cloth for knit around the cover.
TEST result:
Outside temperature is 34 degrees.
Normal bottle is 38 degrees.
Cooling bottle is 26 degrees.
(maximum temperature difference is 12 degrees)
Why to develop bicool
When I participated in TOUR DE NOTO 400 in 2012.
It is a competition to run the 400km in three days.
As for the highest temperature, 36-37 degrees continued with three days.
It becomes like the hot water of the bath immediately, even if I put ice and water into the drink bottle.
I drink it, there is no refreshment.
I want to take a cold drink, but the vending machine on the course has few numbers, and sell out the almost of vending machine of the place where it is easy to stop at.
At that time I intended to make the cover which took evaporation heat, and always cooled the bottle.
I thought that it got cold even if wound up a wet towel, but it may evaporated immediately, and an effect did not continues long time, and direct rays of the sun hit it, and the temperature would not get cold as expected.
Therefore it is bicool bottle cover, it apply the method to take evaporation heat away with high efficiently, through wind to the water keeping layer as the shade condition.



Let water soak into a cover during a run once in approximately two hours.
Then it can keep cooling effect continuously.
I think that I take a rest around every 2 hourst and settle supply and a restroom with the real long-distance run.
Let water soak into a cover in the occasion.

Bottle cover "bicool" usage
Let water soak into a cover.
Let put a drink into the drink bottle before running, and water soak into a bottle cover.
The preparations are only these.
It put in a bottle gauge.
The cloth for cover thickness is around 2mm.
It may be little hard to be contained in some gauges, but there is elasticity in a bottle and a gauge, so please push and inserts it.


Frequency of the water soak into a cover is approximately one to two hours.
During a run, the water of the bottle cover gradually evaporates and cools the inside.
Let water soak into a cover at the time of a break.
I think that around each 1-2 hours enough.


One of the Test result (Ambient 30℃)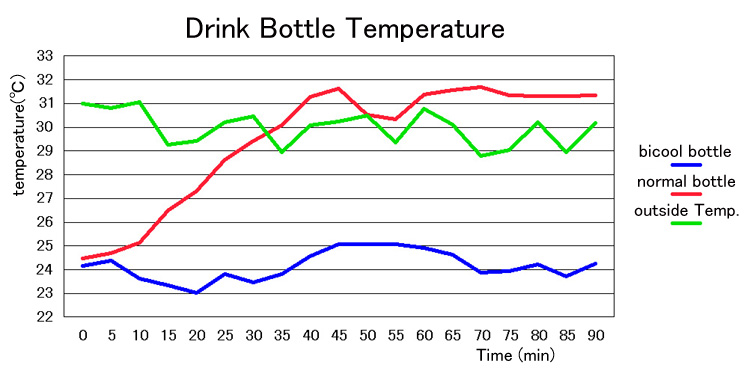 BtoB business
We "GearStation" can do BtoB business for this item "bicool".
If you interested in "bicool", please contact to us.
e-mail: gear.station@msa.hinet.net
We will send you business condition of MOQ/Payment and etc.
We are waiting your contact.
Thank you